Today is International Women's Day and in Kyrgyzstan this is a public holiday. Banners are put up all over the city, wishing women happiness and prosperous lives with many children. For two days the streets in the city center has been filled with flower stands and everywhere you see men caring bouquets and gifts for their wives, mothers and sister. Even I have gotten my fair share of well wishes (for instance, a lady I met at the banya (russian sauna) two weeks ago, sent me a text with roses and hearts).
To tell you the truth, I have been kind of anxious about this day for the abovementioned reasons – the cultural context that I myself grew up in has never felt further away. Do I need to state the obvious? That for me and most of the women that I grew up with, women's day is not about celebration, it is a day to come together and demand your rights! Sure it is also a day to commemorate the important historical steps that generations before my own fought hard to achieve – but above all it is a day that serves to highlight that there is still a lot of work to be done.
Little did I know that I would actually sit at my desk, 12 hours later feeling blessed and thankful for getting the chance to experience International Women's Day in Osh this year – and it is all thanks to some of the coolest, bravest and most dedicated young women I have ever met!
As some of you might know, part of Novi Ritm's activities are dedicated to different groups that are lead by young volunteer's. To illustrate, we have Young Debaters Club and Environmental Group that organizes sessions for their members every week, usually working towards some kind of goal. For instance, Environmental Group is going to organize an Academy of Ecology at the end of March this year in order to highlight environmental problems in the region.
One of Novi Ritm's oldest and most popular groups is Girls Group, which includes about 20 young women and girls who meet on a regular basis; not only to discuss topics connected to feminism and women's right, but also to meditate over yoga and discuss emotional matters with a psychotherapist. For the moment, this group is lead by two young ladies – Nargiza Isakova and Nursuluu Suleikeeva – who played key roles in arranging Novi Ritm's activities during International Women's Day – which (drum-roll) included Osh's first ever Women's Day march through the city!
For this reason I decided to interview them about Women's Day and their thoughts on gender equality.
How did you come up with the idea of arranging a march?
Nargiza: It was actually my idea. I have seen movies about women and how they are arranging marches and I also wanted to do it, so I asked Saltanat (employee at Novi Ritm) and she said yes – and so we did it! She also told me that in Bishkek they arrange this kind of march every year.
Nursuluu: Yes, Nargiza told me that we should be arranging a celebration for the 8th of March since our group is working with gender equality. So we started to think about different ideas and we decided that we wanted to do not only a march but also tell the history of the 8th of March to the participants and the citizens of Osh. Then Lila, who is from America and a Peace Corps volunteer, said that she could do a "fitness festival" for the 8th of March. I think fitness is very useful because girls are strong and taking power.
Why do you think there hasn't been a march in Osh before?
Nargiza: Because I think that people don't have enough information about feminism and gender equality and they are also afraid of the government.
Nursuluu: Yes, I also think it is because Kyrgyz girls are a little bit afraid of the community, and in Osh they don't want listen to words such as gender equality. Here men think that they are above girls – and before, women couldn't do marches because they were afraid.
Do you know how Novi Ritm has been celebrating Women's Day before?
Nursuluu: Yes, I know that last year they just made an exhibition about human rights and gender stereotypes. Actually a few girls walked in the city last year as well but they were attacked by men who said they should not be doing what they were doing. That is why this year we were a little bit afraid – but this year we are also powerful and we have gathered all girls and we got permission from our government to march and to be escorted by police officers – and it was really amazing this time!
What does Women's Day mean to you?
Nargiza: It is a time for women to fight for their rights and to say that we want to be equal to men – and we will be! Our generation continues the ideas from previous ones and we are getting more professional.
What does it mean to be a woman?
Nursuluu: A woman is a human. She is powerful and she can do anything in this life. She can be president and she can be a leader. Just like men, she can do anything and everything.
Have you always had this feeling about women or is it something that your involvement in Novi Ritm has helped you understand?
Nursuluu: No, I had this feeling when I was in school too. I felt equal with the boys and my behaviour was like the boys. I was a powerful girl but it was when I came to Novi Ritm that I realized that I am a feminist. You know, I had a boyfriend. He said that women are below men and that women should listen to men, he said that this was according to Islam. But I have never read about this and I didn't agree with him so after that we broke up. I don't like when men say that they are above me.
What kind of problems do you see in Kyrgyz society today that might effect young women?
Nursuluu: I don't know about the rest of Kyrgyzstan but I know Osh city because I live here and I was born here and I know our society. My classmates think that men should rule everything in the household and that men should become leaders and presidents. Even my ex-boyfriend and his friends thought that women are below men. I don't like this but I think it is a problem in Osh.
Nargiza: Domestic violence and that men are calling women bad things. Men here say things like "you are a woman, you should stay at home".
You mean that they are suppressing women?
Nargiza: Yes. And I hear it in my classroom, from my classmates. When I state my rights and say that I am a girl and I have rights, they tell me to shut up because I am a girl and they say "You are not a good girl – you are a feminist".
Would you like to see more men participate in Women's Day?
Nargiza: Yes, because if we get more boys who are feminists, they can show other boys what it means and they can be supportive and we can join with them. It would be interesting.
Nursuluu: Yes, it should be equal. Men too should participate in this day and they should know the history. They shouldn't give presents only one day and then beat women every other day. They should know all the things that we know and that women are equal to men. They should respect girls like they respect each other!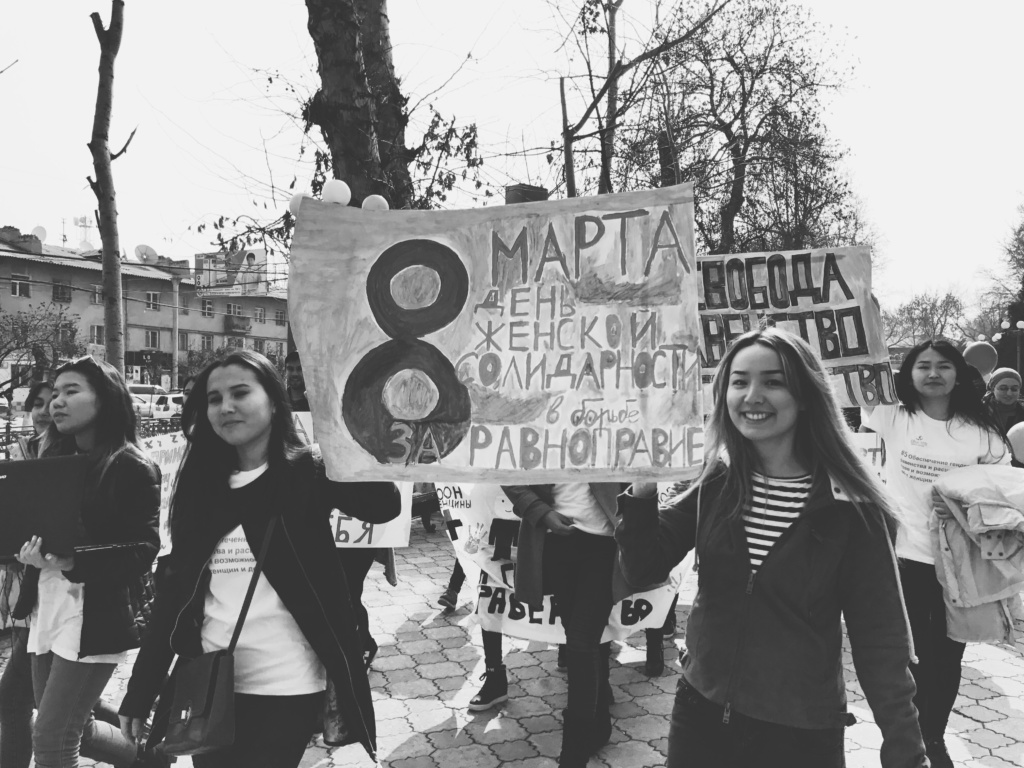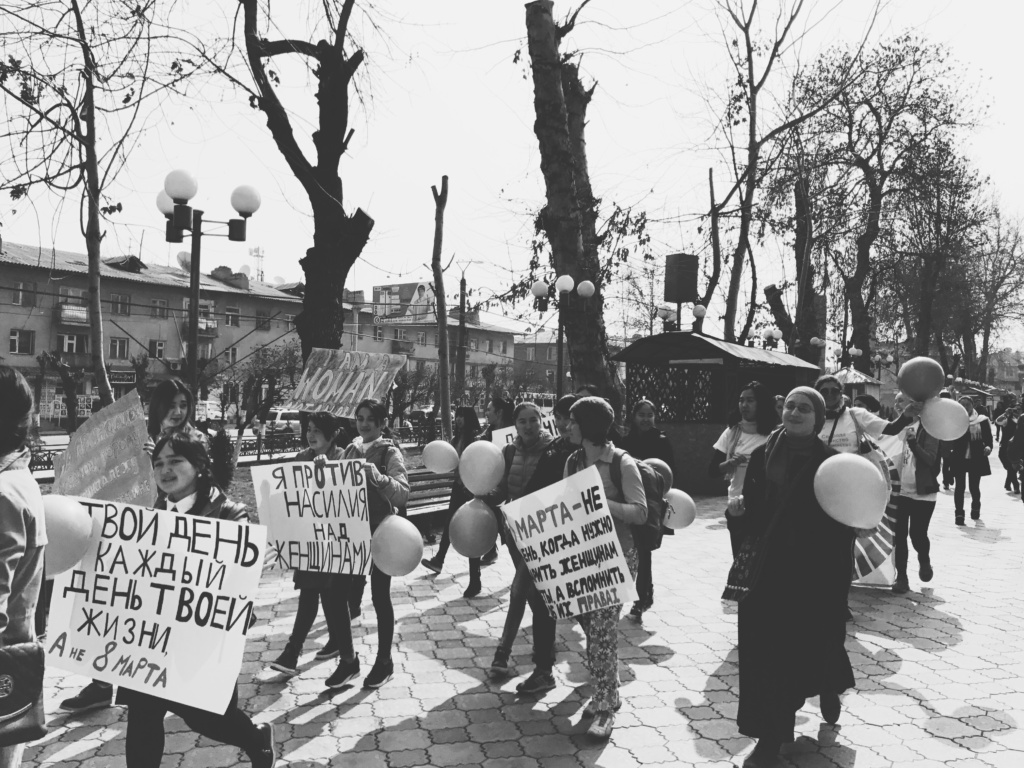 Some pictures from the march.
Written by Amanda Sonesson, based in Osh, Kyrgyzstan