Living in Osh, you sometimes forget how close you are to your neighbours, that is to say, neighbours in surrounding countries. Looking at a map, Uzbekistan is less than 10 km from Osh city centre and even though Uzbek culture is highly present in Osh (probably due to around 50 % of the city's population being ethnic Uzbeks), crossing the border to Uzbekistan is anything but simple.
However, Uzbekistan is not your only option if you want to explore another country but still stay in the region. Living in the Kyrgyz part of the Fergana Valley, you basically find yourself amidst an intricate pattern of borders – with Uzbekistan facing north and Tajikistan in the west and south. To make it even more complicated, within Kyrgyz territory, you will find both Uzbek and Tajik enclaves, as displayed on the map.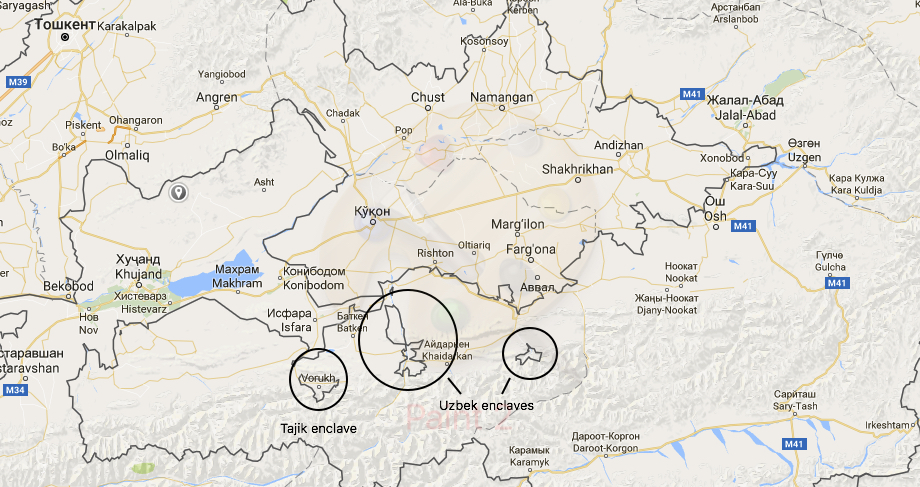 While crossing the border to Uzbekistan takes a lot of work in terms of getting a visa and being careful with what you can and can't bring into the country, getting a visa to Tajikistan is fairly easy; you just apply for one online, print it and bring with you to the border.
For that reason, me, Emma and Annika decided to hit the road two weeks ago: final destination: Dushanbe – the capital of Tajikistan.
So, on an early Saturday morning, we went to one of Osh's many taxi stations, found ourselves a shared taxi that would take us to the border crossing outside of the Kyrgyz city Batken, a trip that took about four hours.
Once at the border, we walked over to Tajikistan, showed our passports and visas to the border guards and found a new taxi that would take us to the small town of Isfarat. Here we had to change car again in order to go to Khjuand – Tajikistan's second largest city, situated as you can see, in the northern parts of the country, in the Sughd region.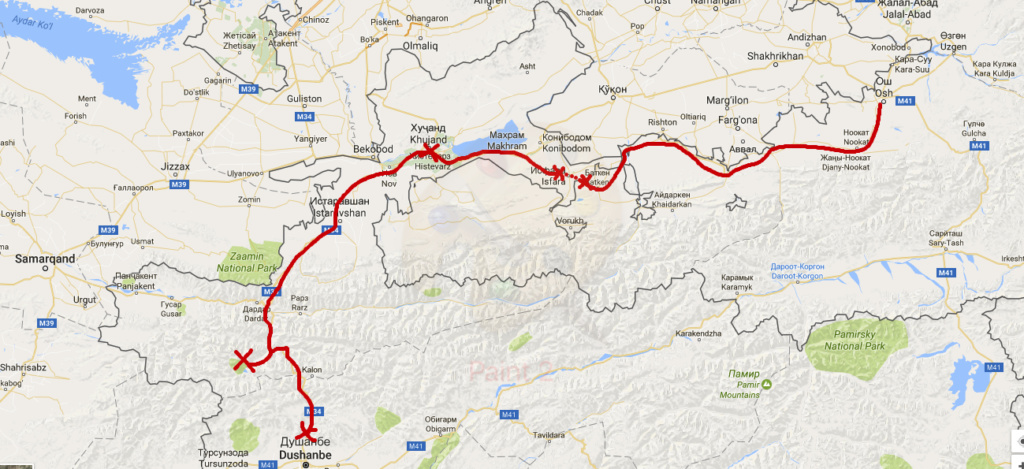 Talking about Tajikistan, our driver told us that large parts of this region went unaffected by the civil war that raged the country between 1992-1997. That is to say, large parts of the old Soviet ruling elite, supporting the (former) president Rahmon Nabiyev against a growing opposition, came from the area surrounding Khujand, while most of the violent clashes occurred in the southern parts of the country and in Dushanbe. In total, the war saw more than 50 000 deaths and displaced around 1.2 million people, leaving the country's infrastructure, governmental services and economy in disarray.[1]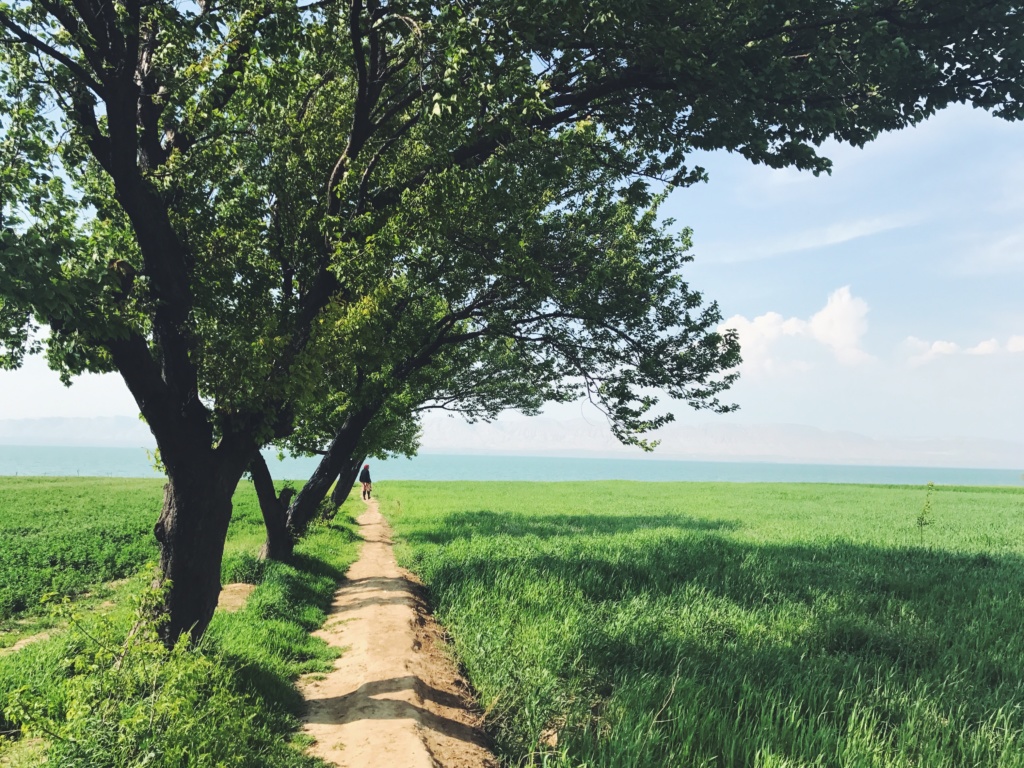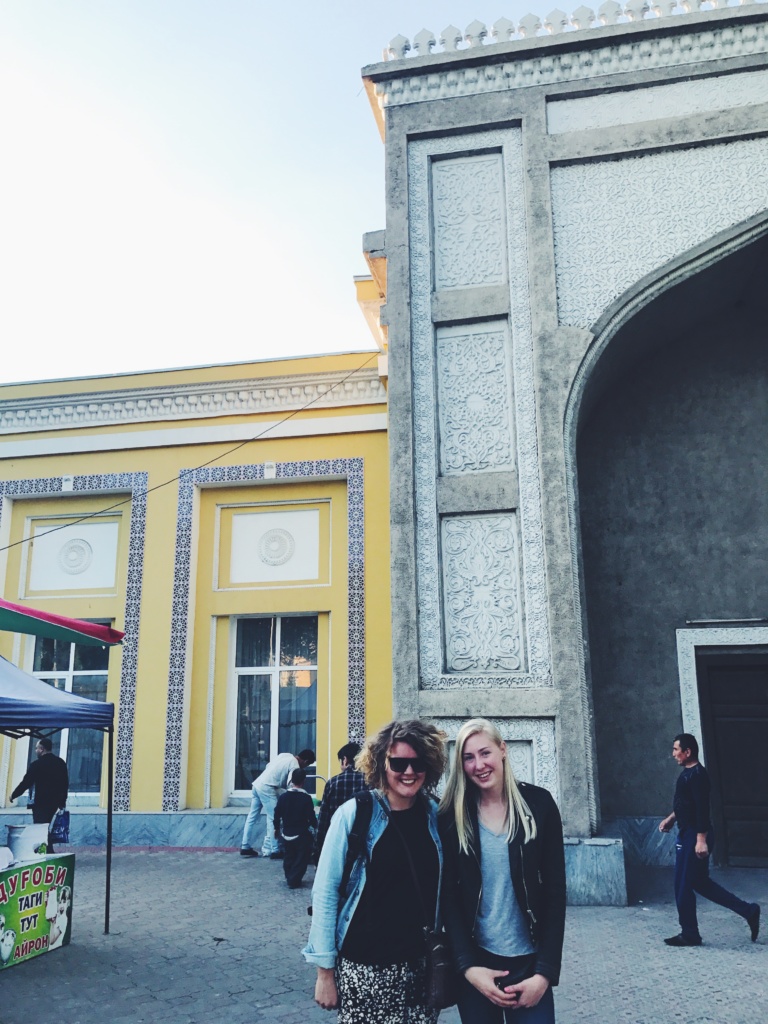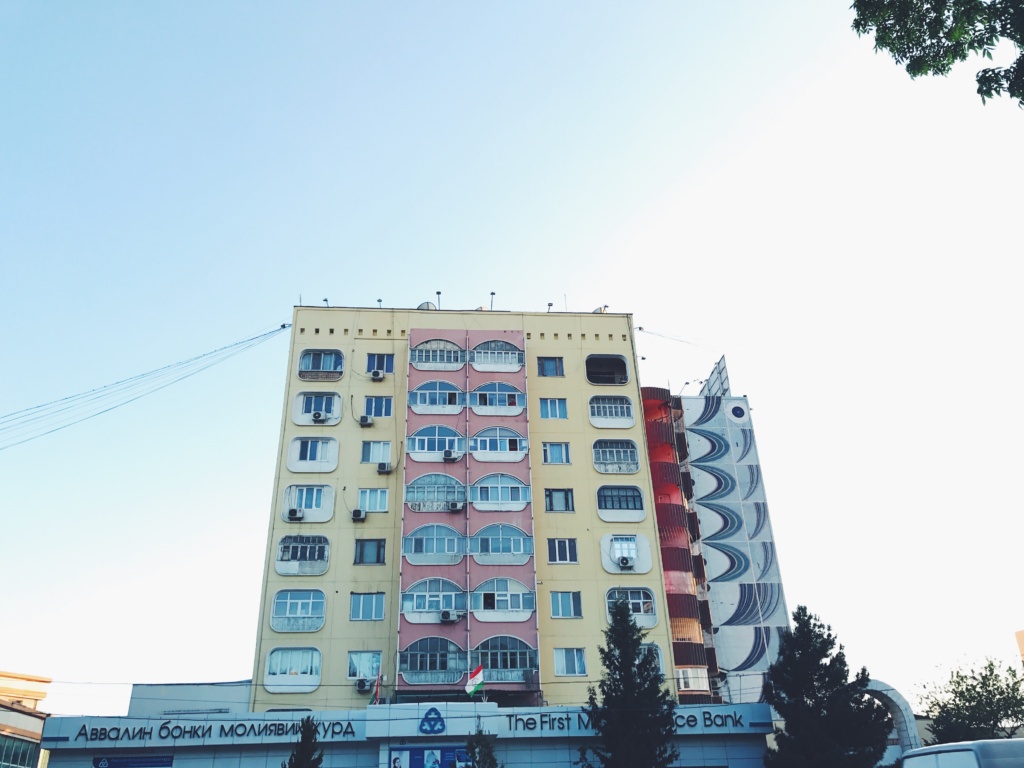 From Khjuand, we continued our journey down south, stopping for one night at Iskanderkul; a mountain lake at an altitude of about 2000 meters, situated on the norther slopes of the Gissar Range in the Fann Mountains. Travelling this road, we saw some really amazing nature, not to speak about Iskanderkul itself – a clear blue lake surrounded by massive mountains and a cloudless sky (no wonder the president got himself a summer house on the shore of this lake).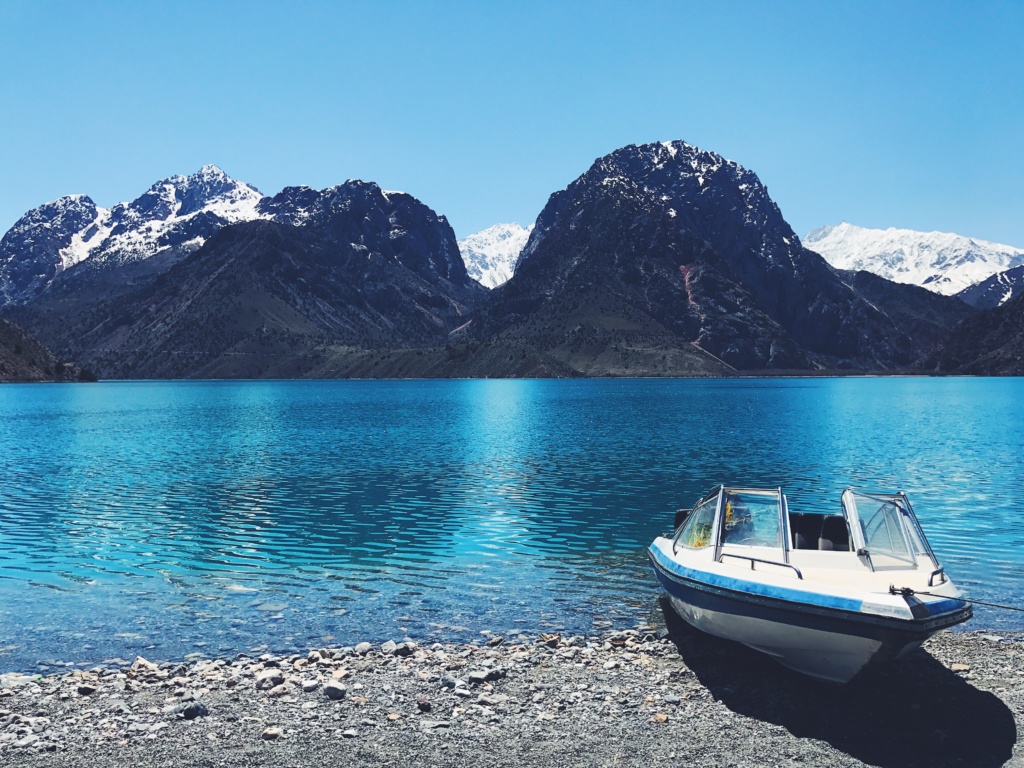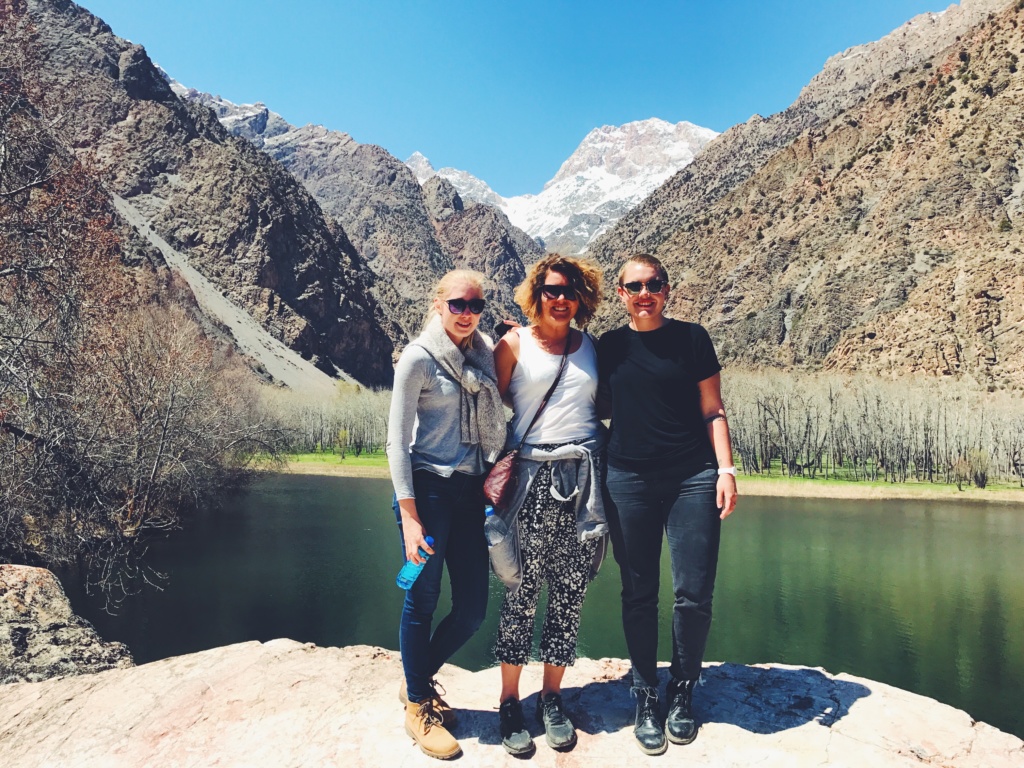 We spent a couple of hours by the lake, hiking to a nearby waterfall. Then we drove to a tiny village higher up in the mountains, where we spent the night.
Descending towards Dushanbe and those parts of the country that was plagued by the war during the 1990's, I don't know what I expected – but what we were greeted by was a brand new city, with colourful and shining buildings tailing the main road, Rudaki ulitsa – accompanied by frequently appearing billboards of the country's President, Emomali Rahmon, who has been ruling the country's since 1992 and was re-elected as President for the forth time in 2013.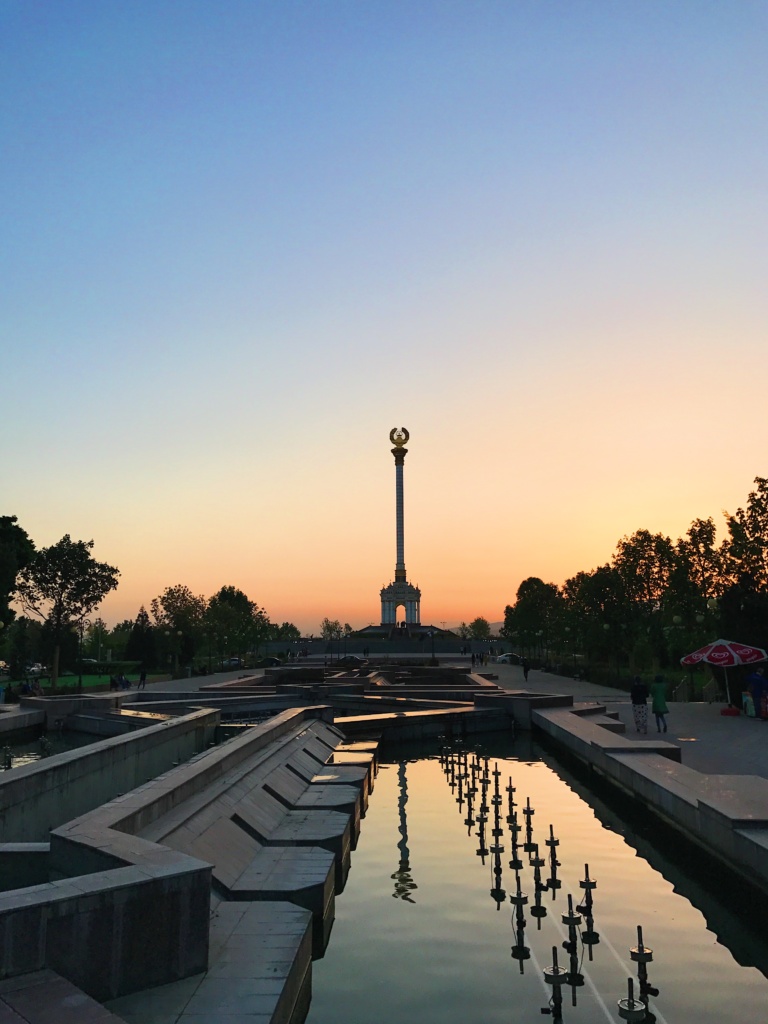 Actually, one of the many friendly people that we met during our visit confirmed that the old Soviet apartment buildings and institutions that has been an integrated part of the city for the last century, even though still fully functioning, are targeted for destruction in order to make space for newer versions of their equivalents (like a new National Library and a new Historic Museum).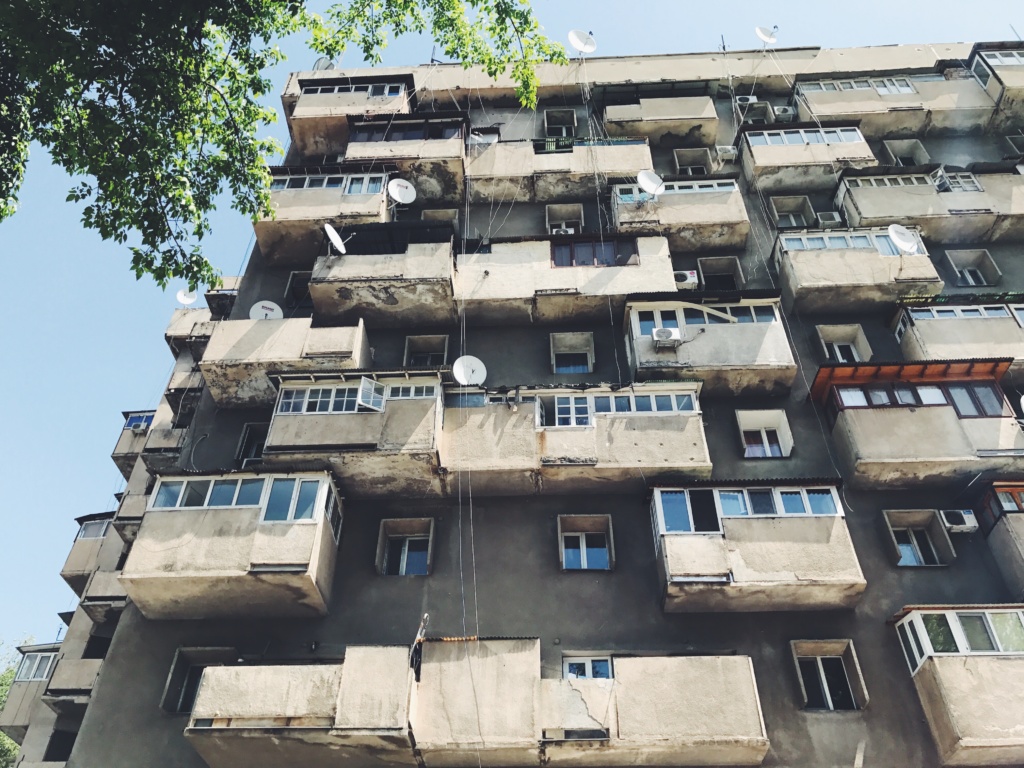 Though putting a lot of money and effort into building a new and shiny capital gives away an illusion of prosperity, Tajikistan is one of the poorest countries in the region. While working hard to reduce poverty (according to the World Bank, from 2000 to 2015 poverty fell from over 83 % to about 31%), progress concerning non-monetary poverty is moving slowly. This is mainly due to limited or no access to education (secondary and higher), heating and sanitation as they are the most unequally distributed services, with varying access by income level when it comes to education, and by location concerning heating and sanitation.[2]
Tajikistan is also highly dependent on remittances, with four in ten working-age adults having sought jobs abroad, sending home remittances equivalent to 42% of the country's GDP – proportionally receiving more than any other country in the world.[3] Most Tajiks seeking jobs abroad has been going to Russia, working in construction and other low-income sectors. Due to the economic crisis in Russia since 2014, with an unstable rouble and the sentiments towards Central Asian migration worker growing harsher[4], remittances has dropped, keeping the Tajik economy unbalanced.[5]
Compared to Osh and Khujand, prices in Dushanbe where quite high and our house tenant told us that for the last two years, the economic situation has gotten so bad that he had to quit his job at a bank as the salary was too low and that he is now planning to emigrate to Canada and work as a taxi driver in order to support his family.
Tajikistan for sure made an ever lasting impression on me; its beauty and complex history – not to mention its present political situation. During our visit we also meet a couple of really interesting individuals who engage in social questions within their society. It was really interesting to hear their views and thoughts about their country and what the future might hold in store for the Tajik people.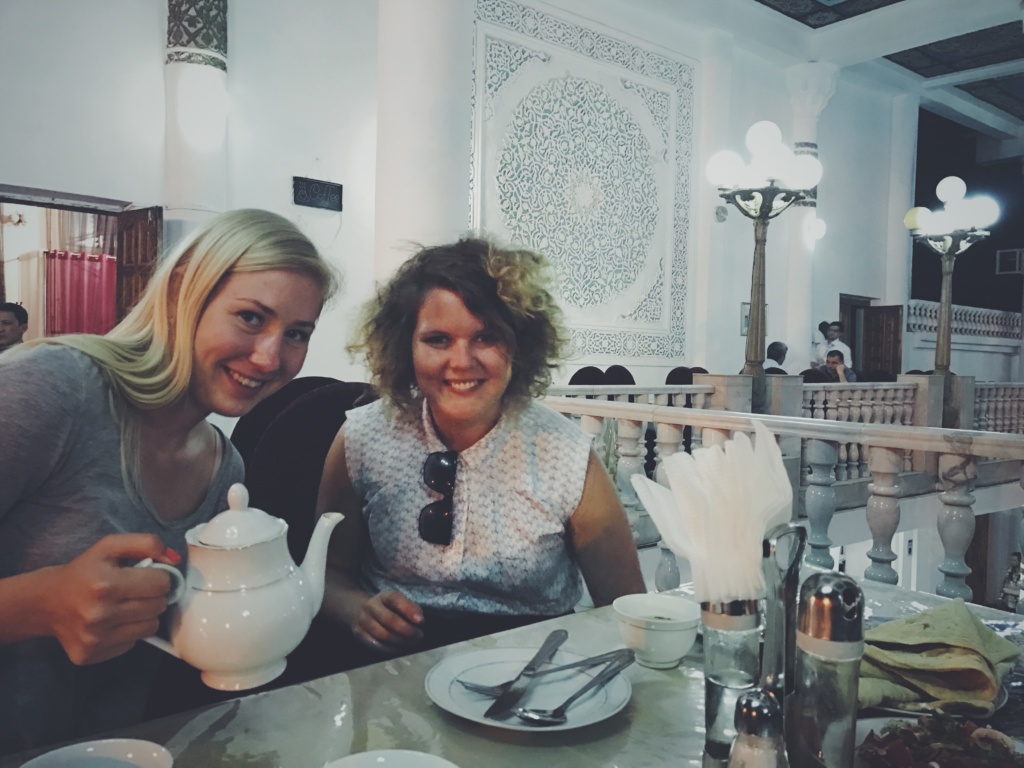 Written by: Amanda Sonesson, based in Osh, Kyrgyzstan
Sources:
[1] http://www.un.org/events/tenstories/06/story.asp?storyID=600 2017-05-04
[2] http://www.worldbank.org/en/country/tajikistan/overview – 2017-05-04
[3] http://www.economist.com/news/finance-and-economics/21688441-remittances-are-good-thing-except-when-they-stop-russia-love – 2017-05-04
[4] http://thediplomat.com/2016/04/central-asias-migrants-face-suspicion-in-russia/ 2017-05-04
[5] http://thediplomat.com/2016/01/tajikistan-remittance-values-fall/ 2017-05-04