It's been quite a journey. After receiving funding from Forum Syd in the beginning of the year, meeting with various civil society actors in Kyrgyzstan and developing a visual concept during the summer, CAG's exhibition Activism, Civil Society and Rights Based Work in Kyrgyzstan is finally touring Sweden!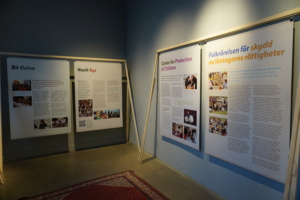 The tour started out successfully in October at Gothenburg's Frilagret, a vibrant center for youth located on the city's central Järntorget. Since then we've moved to Malmö where the exhibit is currently being shown in the main city library's beautiful new wing, the Calendar of Light. Later this month it will also be shown at Malmö's great independent movie theatre Panora, before moving to Stockholm's Solidaritetshuset in for December.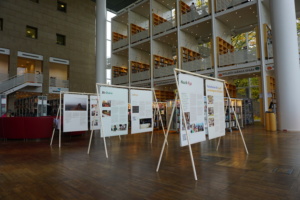 Through portraits of a varied selection of civil society actors in Kyrgyzstan – from teenage feminists to human rights veterans – this exhibition introduces visitors to some of the most current struggles for justice, equality, human rights and democracy being fought in the country.
Given how little information the public has about Central Asia, it is rewarding to see visitors from different walks of life engage with the exhibition and get introduced to the amazing initiatives it portrays. One of the challenges a project like this faces is to strike a balance between giving a realistic account of the problems Kyrgyzstan's civil society faces while not depicting things in gloomy terms only. While our partners in the region certainly work under tough conditions, there are a lot of reasons to be optimistic. The groups portrayed may differ significantly in structure, size and focus, but they are united by a desire for positive change, creativity and determination that are inspiring.
The exhibit can be visited from October 28th to November 7th in the new wing of Malmö City Library (Kung Oscars väg 11) during the library's opening hours:
Mon – Thur        10.00–20.00
Fri                        10.00–18.00
Sat, Sun              11.00–17.00,
from November 9th to 24th in the lobby of Biograf Panora (Friisgatan 19D, Malmö) during movie screening times,
and from December 12th to 23rd in Solidaritetshuset (Tegelviksgatan 40) in Stockholm during the World Library's opening hours, Mon – Thu         09.00-15.00.