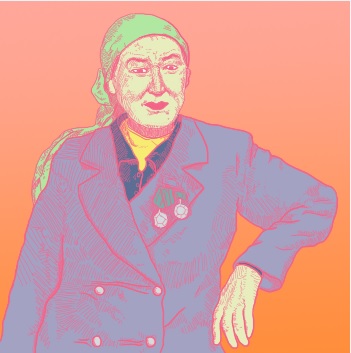 Зууракан Кайназарова
On the 18th of June in 1902, Zuurakan Kaynazarova was born in a village in the Sokuluk district of Chuy oblast in Northern Kyrgyzstan.
She started her career in 1929 at a collective farm and reached record high yields of beets in the 1930's. In 1947, she managed 15 ha of beet harvesting. For most of her career she worked as team leader at collective beet farms in the Chui oblast. Moreover, during the second World War, Kaynazarova supported the war efforts through her crops and winnings, and sheltered many children and war orphans of different nationalities, including Russian, Uzbeks and Poles.
For her efficiency and work efforts, Kaynazarova was awarded several medals and titles such as three Orders of Lenin (1941, 1947, 1948), an Order of the Red Banner of Labor (1946) and twice titled the Hero of Socialist Labor (1948 and 1957). She also had a political career as an elected member of the Communist Party, a deputy of the Supreme Soviet of the USSR, and a member and Vice-Chairman of the Supreme Soviet of the Kirghiz SSR amongst other.
She retired in 1958, and died in 1982. Today, her legacy remains through a high school named after her in her home region, a documentary film, a monument made of pink granite in Bishkek and her birthday was chosen to celebrate the work of rural women in Kyrgyzstan.
Read more:
http://www.kyrgyzstantravel.info/kyrgyzstan/bishkek/monuments/monuments.htm#ex28
https://ru.wikipedia.org/wiki/Кайназарова,_Суракан