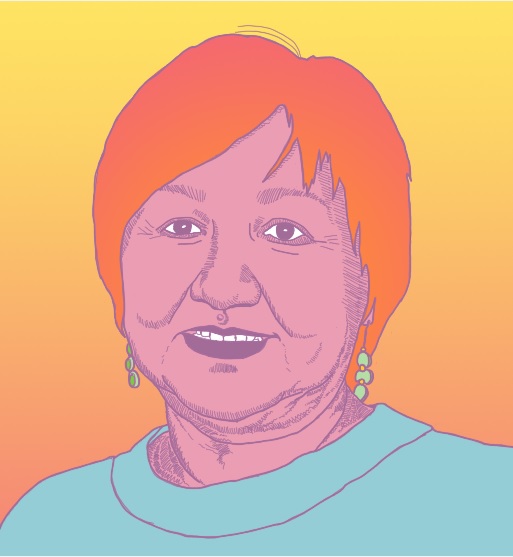 Толекан Исмаилова
Tolekan Ismailova was born on the 17th June, 1954, in Kyrgyzstan, and is today most known for her activism which begun in 1977. She is a well-known human rights defender, working with subjects such as democracy, women's and children's rights, and issues related to migration. Ismailova has been working on all different levels of society – grassroots, national and international – and is seen by international actors as one of the leaders of the democratic movement in Kyrgyzstan. She has for a long time been at the forefront of the struggle against corruption in her country.
She is the Director of Bir Duino Kyrgyzstan, formerly known as Citizens Against Corruption. Part of their work is to organize international documentary human rights film festivals, which serves as a large platform for young filmmakers and activists from around the world. Ismailova is also the Executive Secretary of the Kyrgyzstan NGOs Forum and founding President of Kyrgyzstan's Coalition for Democracy and Civil Society.
She has been arrested and is considered a threat by members of the political elite in Kyrgyzstan and Central Asia. In June 2016, Ismailova and a fellow human rights defender, Aziza Abdyrasulova, sued the Kyrgyz President Atambayev because of public comments he made about them. However, they lost the case, but saw it as a success that it was even brought to court. Ismaliova has a daughter, Lira Ismailova, who works at Bir Duino Kyrgyzstan alongside her mother, highly values her mother's work and hopes that the situation for human rights activists in Kyrgyzstan will improve in the near future.
Read more:
http://birduino.kg/ru/o-nas/komanda/20-bishkek/425-tolekan-ismailova
http://www.iwdn.learningpartnership.org/tag/tolekan-ismailova/
http://thediplomat.com/2016/06/2-kyrgyz-human-rights-activists-sue-president-atambayev/
https://en.wikipedia.org/wiki/Tolekan_Ismailova
https://www.frontlinedefenders.org/en/profile/tolekan-ismailova
http://www.ishr.ch/news/lira-ismailova-human-rights-defender-kyrgyzstan
http://www.wisemuslimwomen.org/muslimwomen/bio/tolekan_ismailova/