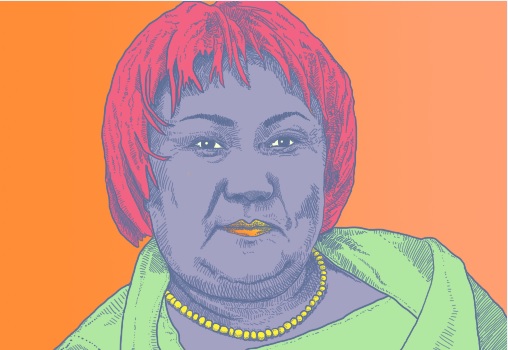 Токтайым Уметалиева
Toktayum Umetalieva was born in the Talas District on April 4, 1962, in a village then known as Leninpol. Umetalieva is a Kyrgyz physicist and politician, who was the only female candidate for the 2005 and 2009 Kyrgyzstani presidential elections.
Toktayum Umetalieva graduated from the Faculty of Physics at the Kyrgyz State National University in 1984 and did not continue her postgraduate studies at the Diplomatic Academy of the Ministry of Foreign Affairs until 2003. Between those years, she worked as a senior lecturer, and as a director for an industrial and commercial company. In 1997, she also became the Chief Editor for the newspaper Ай-Данек, which she still works today.
During the 21st century, Umetalieva has worked as a national coordinator for UNICEF, the Chairperson of the "Assembly of NGOs in Europe and Central Asia, the former Soviet Union and Turkey at the World Bank", and been a member of different advisory councils for the Jogorku Kenesh of the Kyrgyz Republic. She has also been the leader of the political party  Жашасын Кыргызстан ("Long Live Kyrgyzstan").
Umetalieva ran as an independent candidate for the presidential elections in 2009. She claimed, before these elections, that she knew she was unlikely to win, but that she was using her presidential campaign to spread awareness of social issues and women's rights. Additionally, she headed Kyrgyzstan's Association of Nongovernmental and Noncommercial Organizations between the years of 2000 and 2010.
Read more:
http://www.rferl.org/a/Kyrgyzstans_Presidential_Challengers/1781892.html
https://en.wikipedia.org/wiki/Toktayym_Ümötalieva
http://news.bbc.co.uk/2/hi/asia-pacific/4664827.stm
http://www.stanradar.com/bio/full/205-umetalieva-toktajym-dzhumakovna.html