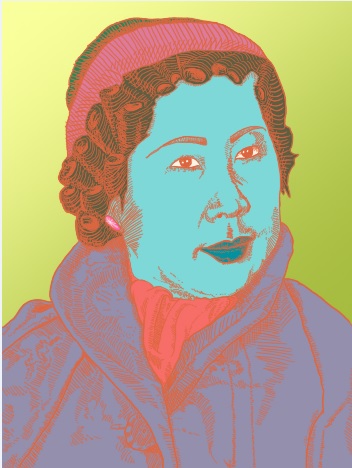 Салима Бекмуратова
Salima Bekmuratova was born on the 17th of December, 1932, in Kara-Suu, which is located in Osh oblast in Southern Kyrgyzstan. Her father composed music and played an instrument called Kyl Kayak, which is played with a bow on two strings. Because of his career, the family moved early to Frunze – today known as Bishkek. In Bishkek, Bekmuratova started to explore her own voice and found a passion for singing, which she continued to develop through studies in music.
In 1952, shortly after graduating from her studies, she started performing at the Kyrgyz National Academic Opera and Ballet Theatre. Thereafter, she was promoted to soloist and starred in many well-known national and international pieces, such as "Aichurek" by Abdylas Maldybayev and "Faust" by von Goethe. Bekmuratova's greatest vocal successes were mainly made on the opera stage, but the range of her repertoire is said to have been extremely wide: Kyrgyz folk songs and works of Kyrgyz composers, works by Russian and Soviet composers, Tchaikovsky, Beethoven, Haydn, and many more. She performed on many stages, particularly in Eastern Europe and Central Asia.
Bekmuratova was given the title of People's Artist of the Kirghiz SSR and additionally received many other awards and diplomas. She died on October 13th, 1995.
Read more:
http://www.literatura.kg/uploads/bekturganova_docheri_zemli_kyrgyzskoj.pdf