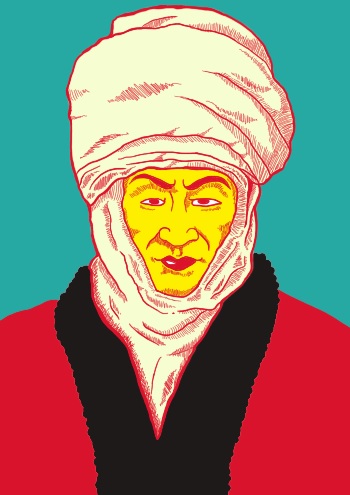 Курманжан Датка
Kurmanjan Datka, or Kurmanjan Mamatbai kyzy (Курманжан Маматбай кызы), is perhaps the most famous woman in Kyrgyz history. She was born in 1811 into a nomadic family in the Alai Mountains. She was given in marriage to a man she did not meet until her wedding day, and following this, she broke tradition and fled from her new husband. Instead, she married Alymbek Datka, a local ruler of the Kyrgyz of the Alai region, in 1832.
After 30 years of marriage, in 1862, her powerful husband was assassinated. The power was subsequently transferred to Kurmanjan, who at this time gained the title of Datka, hence the name she is most known for in current times. Datka can be translated in different ways into English, one of them being "righteous leader". Before Kurmanjan Datka there had been a few female Datkas, however, Kurmanjan's authority and leadership was exceptional in that it was recognized by three nations – the Khanate of Kokand, the Emirate of Bukhara and the Russian Empire.
When the Alai region was annexed by the Russian Empire in the second half of the 19th century, Kurmanjan urged Kyrgyz people to not fight against the Russian army. This has been interpreted in different ways. It has been considered a wise act of diplomacy and peace, welcomed by the colonial Russia. But, she has also been perceived as one of the tools to persuade Kyrgyz people to accept the invading colonial rule.
One of the notable events in her life which is often highlighted in different sources was when one of her sons were sentenced to death by the Russian forces. Even though encouraged to rescue her son, she refused and according to some she even attended the execution. This has become a symbol of her personal sacrifices made for the development and peace of Kyrgyzstan.
After this she generally retired from public life, but was in 1906 visited by Baron Carl Gustaf Emil Mannerheim, who later became the president of Finland (1944-46), and she was given Russian Honors. During this time, world famous photographies (see first link below) of Kurmanjan were taken, which also has been used in drafting a picture of her that now adorns the 50 som-bill. Kurmanjan Datka passed away in February, 1907.
In 2014, the film Kurmanjan Datka – Queen of the Mountains was released, providing a dramatically interpreted insight into the life of this political leader of Alai.
Read more:
Photo link: https://globalvoices.org/wp-content/uploads/2014/10/photo_110_1-800x470.jpg 
http://www.montrealgazette.com/entertainment/movie-guide/Kurmanjan+Datka+Uncomfortable+truths+fight+independence/10141307/story.html
https://en.wikipedia.org/wiki/Kurmanjan_Datka
http://www.rferl.org/a/qishloq-ovozi-who-was-kurmanjan-datka/26770979.html
http://www.kyrgyzjer.com/en/kg/section27/section253/3214.html