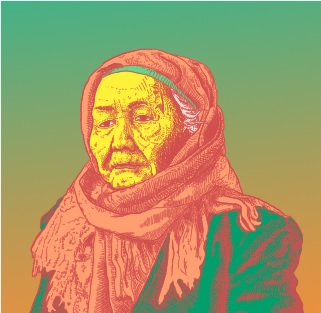 Керимбүбү Шопокова
In Chui oblast, located in Northern Kyrgyzstan, Kerimbubu Shopokova was born in 1917. She grew up in a poor family and became an orphan in her early teenage years. Her father died before she turned 1, and her mother died when Shopokova was merely 13 years old.
She started working with the cultivation of sugar beets, and later became head of a farm. From 1941, after the death of her husband, she steadily increased the crops and did additional services to support the war efforts of that time. Important to note, is that all of the work on the farm was at this time done manually, mostly by women, because of the increasing calling on men for military services. After the war, Shopokova adopted five children whom she cared for, in addition to her own children and the family of her late husband.
Due to her leadership skills and successful cultivation, Shopokova was given several awards, such as the Order of Lenin (1946), and the Order of the Red Banner of Labor (1957).  She was also awarded an honorary diploma for "Excellence in Socialist Agriculture", and was titled Hero of Socialist Labor already in 1957. She retired from her work with beets in 1977 and died at an old age in December 23, 2013.
Read more:
http://www.literatura.kg/uploads/bekturganova_docheri_zemli_kyrgyzskoj.pdf
http://www.super.kg/jylnaama/event/19779
https://ky.wikipedia.org/wiki/Шопокова_Керимбүбү
http://nlkr.gov.kg/index.php?option=com_content&task=view&id=882&Itemid=31