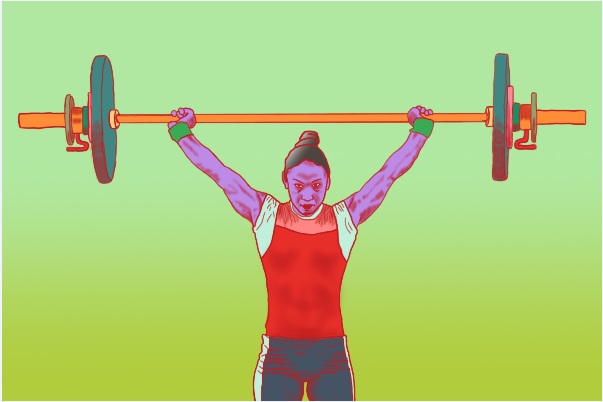 Жаныл Окоева
Janyl Okoyeva was born on the 15th of November, 1993. She is a professional athlete who practices and competes in the sport of weightlifting. Since 2011, she has been competing in the 48 kg weight class, seeing as she herself weighs approximately 47.8 kg and is 1.65 m tall.
Okoyeva has represented Kyrgyzstan in several regional and international championships. In 2011, Okoyeva won silver at the Asian Cup. She also competed in the Asian Games held in Incheon, South Korea, in 2014. There she managed to get 6th place. In 2014 and 2015, she competed in two IWF (International Weightlifting Federation) World Championships, held in Kazakhstan and the United States of America respectively.
For the Summer Olympics held in Rio de Janeiro, Brazil, her coach decided to apply for an individual permit for Okoyeva. This simply because he thought her results during their trainings were impressive and worthy of the Olympic Games. She was accepted to compete and took 10th place, lifting weights of the complete sum of 169 kg. She is considering retiring from her athletic career within two to three years.
Read more:
http://ru.sputnik.kg/sport/20160724/1028078235.html
http://24.kg/sport/34694_shtangistka_janyil_okoeva_zavoevala_putevku_na_olimpiadu/
https://en.wikipedia.org/wiki/Zhanyl_Okoeva
http://www.iwf.net/results/results-by-events/?event=341
http://sport.akipress.org/news:104040?from=portal&place=topcomment
http://www.vb.kg/doc/344686_olimpiyskie_igry_v_rio:_janyl_okoeva_zaniala_10_e_mesto_po_tiajeloy_atletike.html
http://kloop.kg/blog/2016/08/04/kto-predstavit-kyrgyzstan-na-olimpijskih-igrah-v-rio/
http://www.topnews.kg/news/view/aziatskie-igry.-zhanyl-okoeva-ne-smogla-probitsja-v-trojku-liderov