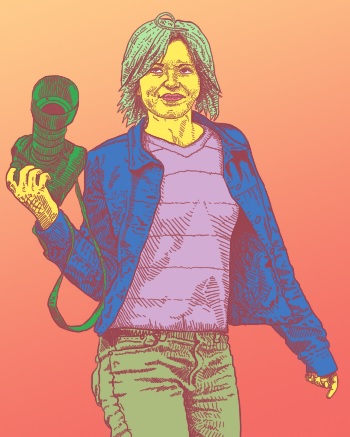 Елена Скочило
Elena Skochilo was born on November 15, 1980, in Bishkek, the capital of Kyrgyzstan. In 1998, she started her studies at the Kyrgyz-American Department of Computer Technologies Institute for Integration of International Educational Programs at the Kyrgyz National University. She graduated with a degree in Automated Systems Information Processing in 2003. After that, she won a scholarship which brought her to the Middle Tennessee State University, where she studied journalism and mass communications.
Today, she is known as an award-winning photojournalist and blogger. Previously, she has been an editor for the Institute for War and Peace Reporting's project News Briefing Central Asia, and she regularly contributes to news outlets such as Associated Press, NewEurasia.Net and Kloop.kg. Her firsthand coverage of the so-called Tulip Revolution – civil unrest in 2005 which ultimately led to the ousting of Kyrgyzstan's first President Askar Akayev – earned Skochilo a ROTOR Award and she became a valuable source for other bloggers and mass media.
In addition to this, Skochilo has been instructing photography and other subjects related to journalism at the American University of Central Asia for three years. She also worked as a programme manager at the Internews Network office in Kyrgyzstan. In 2014, her photograph of a Kyrgyzstani butcher won the entry of the worldwide initiative 'The Other Hundred'. Skochilo is currently working as a freelance photojournalist and project manager.
Read more:
http://morrire.livejournal.com/profile
https://auca.kg/en/auca_news/975/
http://www.theotherhundred.com/2014/Elena_Skochilo
https://www.neweurasia.net/culture-and-history/gold-of-ancient-kyrgyzstan/
http://kloop.kg/blog/author/morrire/