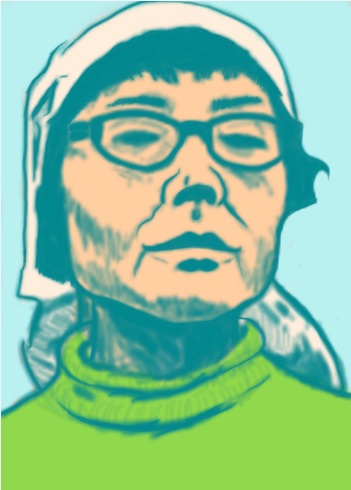 Динара Асанова
Dinara Asanova was born on the 24th of November in 1942, in Bishkek (then Frunze) of the Kirghiz SSR. In the early 1960's, she started working as an assistant director at the studio Kyrgyzfilm, where she also acted in a few movies. The result of her thesis, and also her first solo effort, was the short film Rudolfio (Рудольфио) which was defended in 1970.
Shortly thereafter, Asanova moved to Leningrad and started to work with the Lenfilm Studio, where she directed at least nine feature films. The first full-length film which got nationwide attention was Woodpeckers Don't Get Headaches (Не болит голова у дятла) was released in 1975. Asanova's movies were known for their perceptive treatment of contemporary issues and social problems, such as generational gaps and adolescent life during the time in which she was active. She often chose to include both professional actors and non-actors in order to facilitate a more realistic feeling in the interactions and films in general. She remains largely unknown in Western countries but had great success in the Soviet Union.
She died suddenly from a cardiac arrest on April 4, 1985, in Murmansk, Russia, and has had several films and documentaries have made about her since.  
Read more:
Women Film Directors: An International Bio-critical Dictionary by Gwendolyn Audrey Foster.
https://books.google.kg/books?id=-kJHa7KqnQ4C&pg=PA22&redir_esc=y#v=onepage&q&f=false
http://www.imdb.com/name/nm0038361/bio?ref_=nm_ov_bio_sm
Kinoglasnost: Soviet Cinema in Our Time by Anna Lawton.
https://books.google.kg/books?id=7O4zAAAAIAAJ&pg=PA23&redir_esc=y#v=onepage&q&f=false
https://ru.wikipedia.org/wiki/Асанова,_Динара_Кулдашевна