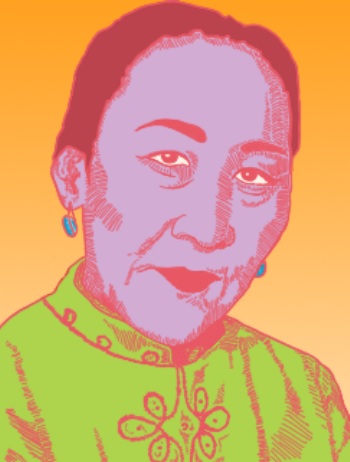 Даркүл Күйүкова
Darkul Kuyukova was born in 1919 on the 29th of October. At that time, Kyrgyzstan had not yet become an autonomous republic within the Soviet Union, but her place of birth was close to what today is Bishkek, the capital of the Kyrgyz Republic. She, and three other contemporaries (Baken Kydykeyeva, Saira Kiyizbaeva, and Sabira Kumushalieva) were collectively called the Four Daughters of Tököldösh. This name was invented by Kuyukova's older brother and refers to their native village.
Kuyukova was a famous actress, who starred in several movies. The ones she is perhaps most famous for are the "First Teacher" (Russian: Первыйучитель, 1965) and "The Milky Way" (Kyrgyz: Саманчынынжолу, 1967). She began her career in drama and theatre in 1936 in Bishkek (then Frunze) at the Young Spectators Theatre, with musical theatre and young viewers. In 1941, she started working with the Academic State Theatre. She has portrayed numerous characters, and was said to be particularly talented in satirical comedies. She also starred in other movies such as "Heat" (Russian: Зной, 1963) and "Parting with Childhood (Russian: Расставаясь с детством, 1980).
Kuyukova received several awards, medals and diplomas. She became the People's Artist of the Kirghiz SSR in 1958, and the People's Artist of the USSR in 1967. Kuyukova also has a street named after her in the Kyrgyz capital. She died in Bishkek in 1997 from a long-term illness.
Read more:
Igmen, A. (2012). Speaking Soviet with an Accent: Culture and Power in Kyrgyzstan. Pittsburgh: University of Pittsburgh Press.
http://celebritiesagent.com/darkulkuyukova.com
http://www.imdb.com/name/nm0476722/bio?ref_=nm_ov_bio_sm
https://ky.wikipedia.org/wiki/Күйүкова_Даркүл
http://www.super.kg/jylnaama/event/19009/