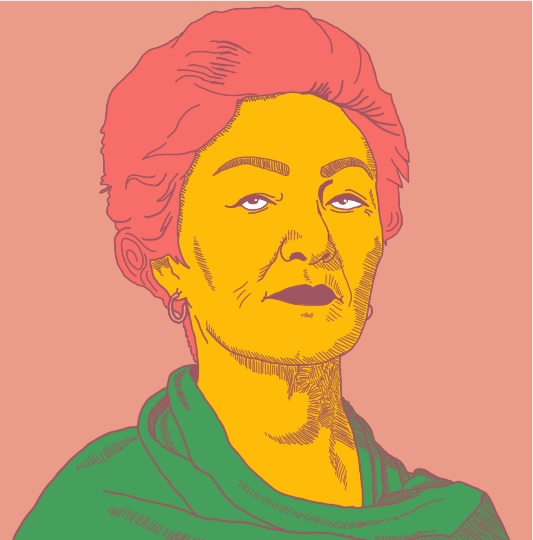 Бакен Кыдыкеева
On September 20, 1920 (according to some sources 20th of October 1923), Baken Kydykeyeva was born in a village which at the time was located outside of Bishkek. She, and three other contemporaries (Darkul Kuyukova, Saira Kiyizbaeva, and Sabira Kumushalieva) were collectively called the Four Daughters of Tököldösh. This name was invented by Kuyukova's older brother and refers to their native village.
Today, the city has grown to include this area within the boundaries of the capital. Kydykeyeva was a famous Kyrgyz actress, with one street in Bishkek named after her. At the age of 16, she started with Darkul Kuyukova at the Young Spectators Theatre. At age 21, she continued her career with work at the Naryn Regional Theatre. After this, she started to work for the Kyrgyz National Theatre.
She was the first actress to play a major role in the first national feature film "Saltanat" (Russian: Салтанат, 1955). Kydykeyeva also starred in "Toktogul" (Токтогул, 1959), "The First Teacher" (Kyrgyz: Биринчимугалим, 1965), "The Milky Way" (Kyrgyz: Саманчынынжолу, 1967), and many more.
In 1970, she was awarded the People's Artist of the USSR and the Toktogul State Prize. In her life, she has been awarded several other titles, diplomas and medals as well. During her life, she was married twice, and birthed two sons and one daughter.According to official records, she died the 15th of January 1994, but other sources claim that she died late December 1993.
Read more:
Igmen, A. (2012). Speaking Soviet with an Accent: Culture and Power in Kyrgyzstan. Pittsburgh: University of Pittsburgh Press.
http://www.kabar.kg/rus/society/full/103316
http://tyup.net/page/baken-kydykeeva
http://pomnipro.ru/memorypage29351/biography
https://ky.wikipedia.org/wiki/Бакен_Кыдыкеева
https://ru.wikipedia.org/wiki/Кыдыкеева,_Бакен