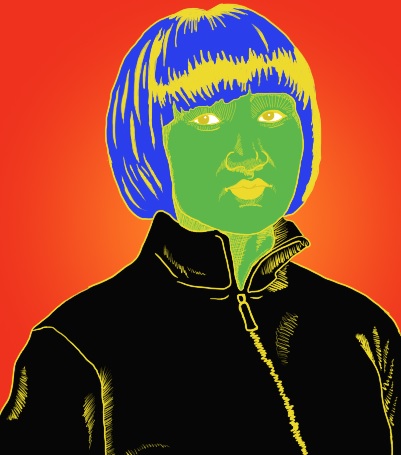 Айсулуу Тыныбекова
Aisuluu Tynybekova was born the 4th of May, 1993, in the village of Mailuu-Suu in the Jalal-Abad oblast in the South-Western part of Kyrgyzstan. At 15, Tynybekova discovered the sport of freestyle wrestling, and four years later she became the first woman to wrestle for Kyrgyzstan in the Olympics. That year, she competed in the category "Freestyle 63 kg" at the 2012 Summer Olympics in London.
Prior to her career in wrestling, she played basketball and trained in the martial art karate. In 2009, she joined the Kyrgyz national wrestling team and as soon as 2013 she was named one of the Best Athletes of the Year in Kyrgyzstan. Additionally, she held the title of Master of Sport of International Class in Kyrgyzstan in 2015. She also studied economics at the Kyrgyz State Technical University in Bishkek.
As of today, 2016, Tynybekova has competed in four World Championships (2011, 2013, 2014, 2015) where she finished as high as seventh place. She has also competed in four Asian Championships (2013, 2014, 2015, 2016), finishing no lower than third and winning the 58 kg class in 2016.
Read more:
https://en.wikipedia.org/wiki/Aisuluu_Tynybekova
http://www.firstpost.com/world/teenage-kyrgyz-female-wrestler-nightmare-for-male-colleagues-331245.html
https://www.olympic.org/aisuluu-tynybekova
http://www.rferl.org/a/kyrgyzstan-brightest-olympic-medal-hope-clears-legal-hurdle-over-fight/24652150.html
http://results.nbcolympics.com/athletes/athlete=tynybekova-aisuluu-1110659/index.html?intcmp=schedule-top-athlete